Cindy Sherman, a conceptual photographer worked to confront stereotypes of women through her artistic exploration. Her well known work, Complete Untitled Film Stills, (1977-1980), can be seen at the Museum of Modern Art in New York. Sherman, born in 1954 in New Jersey, often is a nameless subject in her pieces. Her work is typically done in series, provoking questions about not only women, but media, society, and the nature of art.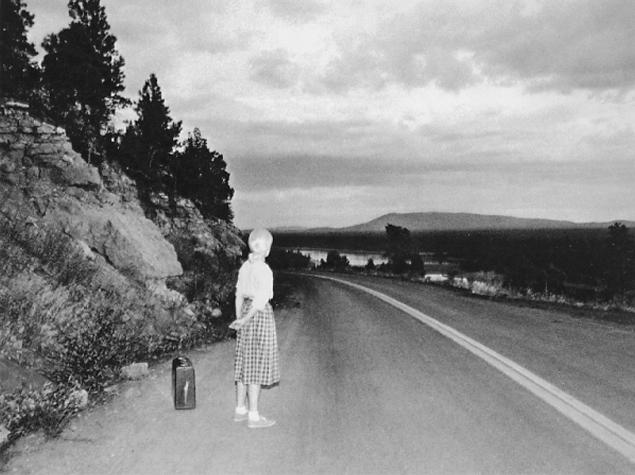 Untitled Film Still #48
Untitled Film Still #58
Untitled Film Still #3
Barbara Kruger is another American conceptual artist who focused on photography to illicit discourse on the topics of political and popular culture, women's role in society, and pervasive gender stereotypes. Born in New Jersey in 1945, she is well known for her black and white photographs containing red captions with provocative text. Like Sherman, she is recognized as a pivotal feminist post modern artist. She intends for her slogans to 'shake society' and these works give insight into Kruger's time as a magazine editorial designer, early on in her career. As an artist, her work is done primarily in New York, more recently in the form of billboards, slogans and quotes wrapped around city buses, and large scale video/audio installations.
4.Untitled Film Still #58. 1980. Image Retrieved on November 16 from http://arts-sciences.cua.edu/hsct102/sherman%20pages/shermmain.html
5.Untitled Film Still #48. 1979. Image Retrieved on November 16 from http://www.moma.org/interactives/exhibitions/1997/sherman/selectedworks.html
6.Untitled Film Still #3. 1977. Image Retrieved on November 16 from http://www.moma.org/interactives/exhibitions/1997/sherman/selectedworks.html
7. Cindy Sherman. From Wikipedia, the free encyclopedia. Retrieved on November 16 from http://en.wikipedia.org/wiki/Cindy_Sherman
8. Barbara Kruger. From Wikipedia, the free encyclopedia. Retrieved on November 16 from http://en.wikipedia.org/wiki/Barbara_Kruger
9. Barbara Kruger. The Art History Archive – Feminist Art. Retrieved on November 16 from http://www.arthistoryarchive.com/arthistory/feminist/Barbara-Kruger.html